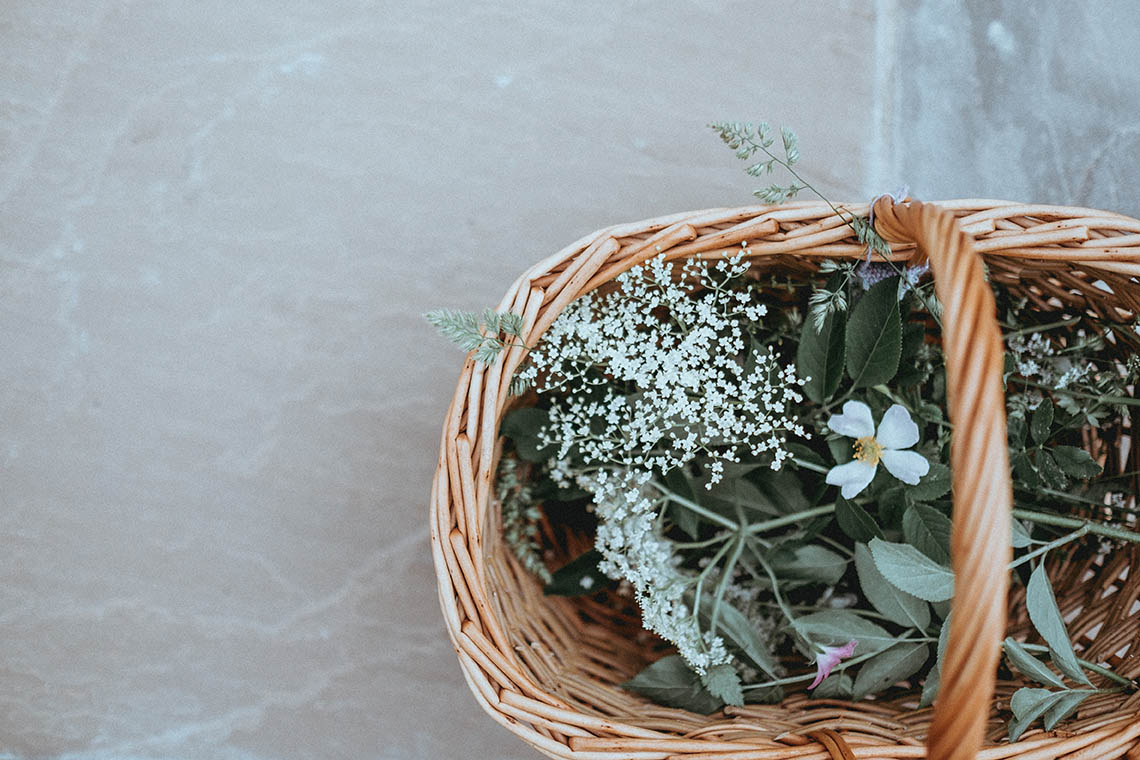 "Becoming a mother is a profound identity shift that will have your ego struggling to hold on. If we can practice yielding to, instead of fighting, some of the changes and be truly aware of the impermanent nature of all things, this time can be full of insights and spiritual ripening."

~Kimberly Ann Johnson
If you haven't already read my post about preparing for the fourth trimester and the five universal postpartum needs, you should definitely check that out first here. Otherwise, onward!
Creating a postpartum healing basket is one of my personal favorite ways to ritualize and prepare for the postpartum time. It's a very simple and accessible way to bring intention to the liminal space that comes after a baby arrives.
What you include in your postpartum healing basket will be unique to your needs and also what brings your comfort; however, here I'll share what mine includes and give you some ideas on how to gather items to support healing and nourishment when you're caring for a new baby.
All you need to get started is a small or medium sized basket or container of some sort (which you can probably find at home) and some time to think about what you might want to keep close in those first weeks postpartum! If it's your first birth, then you may need more guidance, which is why you're reading this! I recommend getting started with this early in your third trimester so you can take your time with it but anytime is better than never, even if you already had your baby!
Consider the following questions when preparing your own postpartum healing basket:
What items do I already have around my home that bring me physical or emotional comfort and nourishment?

What resources (internal and external) do I already have that can support healing during the fourth trimester?

What are some simple self care practices or rituals that I love and may be able to include in my postpartum time?

What might I need to gather, ask for or purchase to complete my basket?
These questions can help you determine what exactly goes in the basket. The ritual of going through this process can also help prepare your psyche for the truly indescribable and grandiose rite of passage that is birth and new motherhood.
You may be thinking, why gather things from around my own home when I could just get them when I need them? Right! I hear you on that. However, imagine that you're newly postpartum, your body is tired and maybe achy, your baby needs to be held almost constantly and sleep is very limited…it most likely won't occur to you to get x, y or z for yourself. In fact, you may forget about the resources you already have!
Putting together a healing basket prioritizes you, makes healing accessible and helps those around you to know a little bit more about how to help.
Alright, so let's get to what's inside my basket so you can have some inspiration!
Here are some of the basics that you may already have around home:
Warm socks
Mala or prayer beads or other item of spiritual significance
Journal and pen
A good breastfeeding book (if that's your plan!) like this one
Another book for pleasure
Lip balm
Body oil or skin moisturizer of some sort (I like Banyan Botanicals or coconut oil with a few drops of essential oils)
Here are the items I include that address physical and emotional healing:
Homeopathics: Arnica for immediately postpartum to reduce any swelling, bruising or pain, phytolacca for any potential breast engorgement, plugged ducts or mastitis
Creams and salves: Earth Mama Angel Baby Nipple Butter, Botanical Blends moxa salve, Earth Mama Angel Baby Mama Bottom Balm, Motherlove Nipple Cream
Flower essences: Bach Flowers Rescue Remedy and a mama flower essence formula by Shri Veda Wellness
Sitz bath herbal blend of calendula, lavender, yarrow and witch hazel
Yoni steam herbal blend of rose petals, dandelion leaf, mugwort, calendula and lavender
Moxibustion for mother warming (contact me to learn how to do this for yourself!)
Witch hazel and peri bottle for easy trips to the bathroom: You can add a bit of witch hazel to warm water in the peri bottle to take away any pain or stinging around tears while using the bathroom. Witch hazel can also be used for pain associated with hemorrhoids.
Cramp bark by Wise Woman Herbals for any after pains. Wishgarden Herbs also has a great product called AfterEase.
Helichrysum hydrosol by Snow Lotus for perineal and vaginal tissue healing
Belly binder, like this one from Bellies, Inc.
Supplements: prenatal vitamin, DHA, magnesium glycinate, natural calm calcium magnesium
Other potentially helpful items:
Essential oils that you have experience with and enjoy
Postpartum pads like these
Reusable breast pads
Resource list of local support groups, lactation consultants, doulas and bodyworkers
Lactation teas and herbal formulas
There are so many other possibilities for what to include and you may find that you even keep the basket around for beyond the fourth trimester! During my first postpartum time, I kept mine going and updated it as my needs changed until 6 months postpartum. When I finally deconstructed it and put the basket to use for some cloth diapers, it felt like I was crossing some threshold, as well as acknowledging the healing journey I had been on.
Having a new baby is both beautiful and intense. It's deeply nourishing and also unbelievably demanding of all your resources. Having a healing basket that is just for you can be a reminder that this time is limited, things are ever changing and you are indeed supported on this journey.
If you'd like to add a custom herbal formula or vaginal steam blend for your postpartum time, please reach out to me for a virtual session!
If you'd like to buy a beautiful New Mama Gift Basket for a friend, family member or yourself, check it out here.