Holistic and Embodied Care for Womb Cycle Vitality and Hormonal Resilience, Fertility through Postpartum
Whether you're considering an office visit, home visit or a virtual session, I am so glad you're here and I would be honored to support you. I hope you find the healing that you need and awaken to your own power and body wisdom along the way. All of my work is trauma informed and tailored to fit your needs. Below, you'll find the different services currently offered.
Issues commonly worked with in a holistic, embodied and bio-intelligent way:
Virtual sessions are offered to serve those who are not local. Each session is unique depending on your needs but usually includes aspects of the following: dietary and lifestyle recommendations, Chinese Herbal Medicine or supplement recommendations, acupressure guidance, somatic sex education and nervous system tracking and regulation. We can also go over lab results or other treatment plans if you are looking for a second opinion. I often order functional lab testing if that is something that we feel will be helpful on your journey.
Unless you have booked a virtual session or had an office visit with me before, a 60 minute initial session is recommended. This allows me to really get to know you and where you need support. After your initial session with me, we will create a plan together that meets your unique needs! I am committed to helping you get to the root of any challenges you're facing and move forward in an embodied, bio-intelligent way.
All virtual sessions take place in zoom and you will receive details after booking. Each virtual session includes a follow up email with details around what we discussed and any actions steps for you to follow.
Current Rates
Initial Virtual Consultation $225;
75-90 Minutes
Follow Up Virtual Session $175;
60 Minutes
Common areas of support include:
Menstrual challenges
Fertility support
Cervical health
DUTCH hormone testing
Holistic prenatal care
Freebirth preparation
Preparing for the 4th trimester
Postpartum healing
Ancestral nutrition
Navigating perimenopause
Vaginal and vulva health
"I felt so seen and heard and validated..."
"I felt so seen and heard and validated on everything I've been going through. I feel so hopeful about my health for the first time in years and I'm so excited to get started with this new plan."
"...so much good insight."
"It was a great session, I truly enjoyed it and got so much good insight."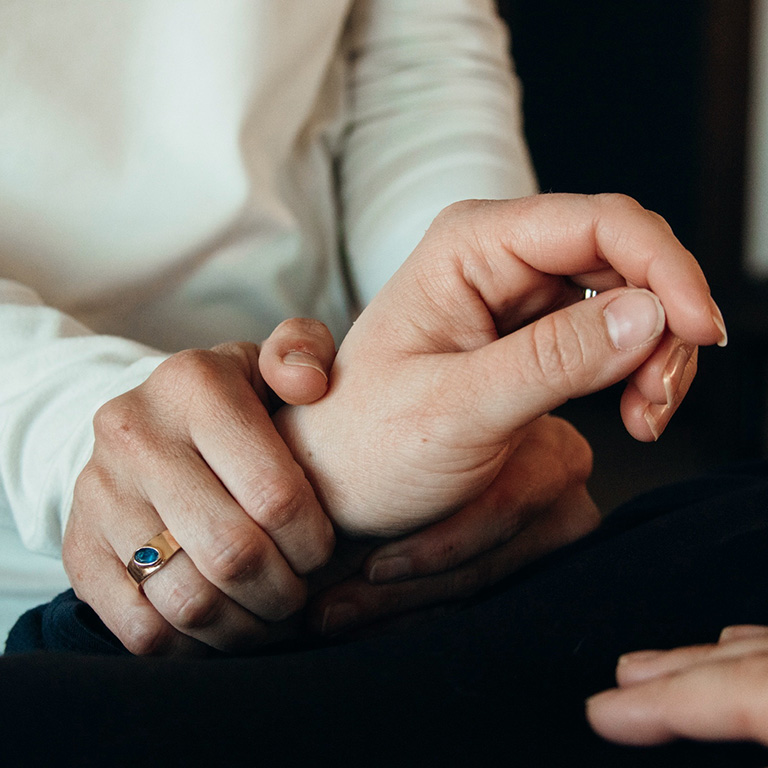 "Thank you for the session yesterday. I feel so much better. I slept well without any stomach issues and my energy level is great!"
"That was very helpful and I cannot wait to have another session. I saw incremental improvements already and I am noticing other areas with conflicting beliefs/ behaviors. I feel like this new awareness has sprung from our session. Thank you again."
Acupuncture and Chinese Herbal Medicine
East Asian Medicine provides a unique and holistic view of the body, especially in relationship to womb and hormonal health. While acupuncture and Chinese Herbal Medicine are the most common modalities of East Asian Medicine, there are many others that are often incorporated into treatment plans, like cupping, moxibustion or vaginal steam therapy. You can read more about East Asian Medicine and the various modalities here.
I am currently in the process of relocating to the Kansas City area and will only be offering home visits and virtual sessions for the remainder of 2023.
First time visits last approximately 90 minutes and include a consultation, full health history and assessment, acupuncture treatment and any recommendations that I may have for lifestyle, nutrition, embodiment practices, supplements or herbal medicine. In most cases, follow up visits are 60 minutes. Health education, nervous system tracking and regulation are often incorporated into office visits depending on your specific needs. I am also able to order functional lab testing and help you interpret results.
Current Rates
Initial Consultation and Treatment $175
Follow up visit $105
Package of 5 followup visits $425
A note on insurance
I am currently not an in network provider with any insurance companies. I am happy to provide you with a superbill that you can submit to your insurance provider.
Sometimes it makes more sense to have me come to you! I offer home visits when necessary. This can be especially convenient during pregnancy as you approach birth or during the postpartum period when it's best for you to be resting and nesting as much as possible.  For more information on home visits in the Kansas City area, please email me here.
Pre- and post-embryo transfer acupuncture on site has been shown to increase the rate of implantation. An initial in office or home visit is required prior to your transfer for this service. This is also a way for you to feel more supported throughout the process.
"Kristin took the time to truly listen & sat with me..."
"Kristin is an amazing acupuncturist. She has a very sweet & caring personality. I have seen Kristin for well over a year & have been very happy to have found her. I struggle with Stomach issues (acid reflux & IBS). Kristin took the time to truly listen & sat with me at every weekly appointment to narrow down my issues. Prior to Kristin, I saw a gastroenterologist, who just didn't care about my concerns or how I felt. After numerous visits, I felt nothing was being accomplished, so I never went back. Please know, that wasn't my first suit with a specialist. I spent 10 years prior to Kristin working with doctors regarding my stomach issues. With Kristin you are more than a number. Kristin has helped me so much. I honestly can say no doctor has ever taken the time that Kristin has to help me live in harmony with food. Sounds silly but it's so true. Kristin is amazing! When speaking with her regarding any concerns she is listening 100% and processing your concerns to help find some form of solution. Please be mindful that this way of medicine does take time, but it does way! Best part, everything is natural, it's amazing!"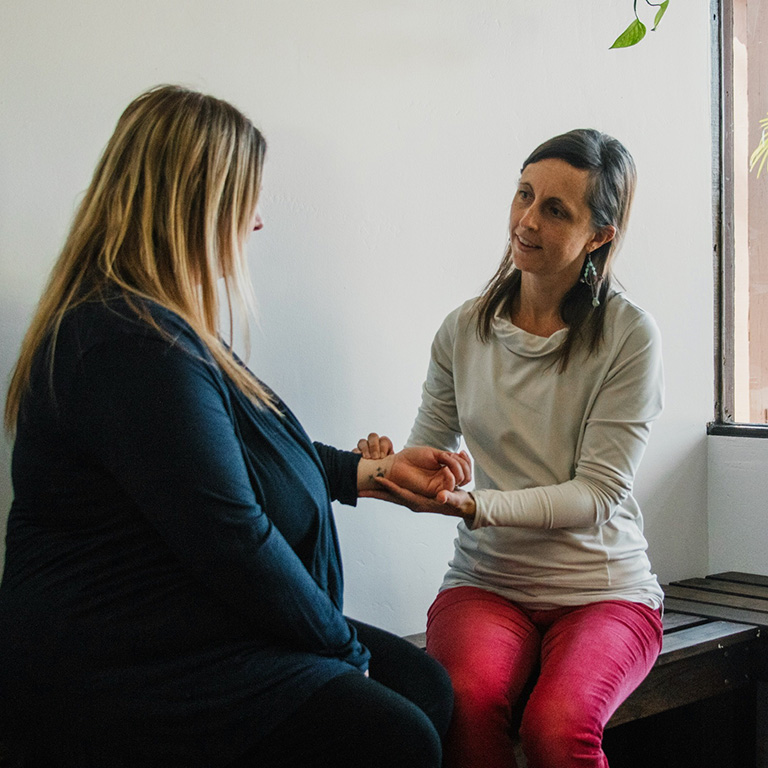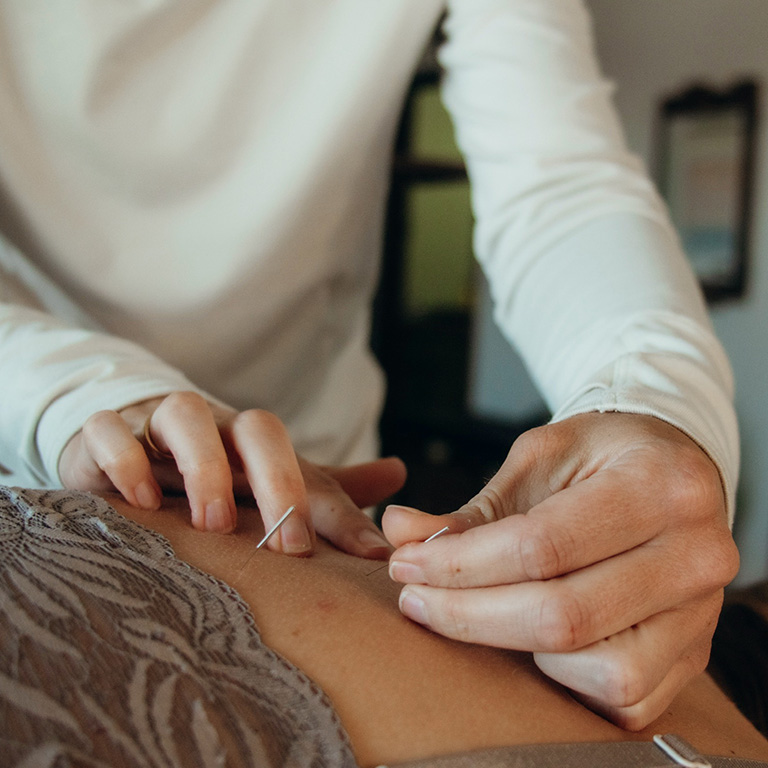 "My night sweats are now gone, my cycles have decreased consistently by about a week, and the PMS has lessened..."
"Kristin and the treatment, attention, and care she gives has been incredible. I began seeing her earlier this year for hormonal balance after struggling with horrible night sweats, extra long cycles, and noticeable PMS. My night sweats are now gone, my cycles have decreased consistently by about a week, and the PMS has lessened. This was HUGE for me as I've seen many doctors (both western and eastern) over the years and haven't had these results! She has a very holistic approach, while offering herbal support when/if necessary and any other supplemental support she believes may help the process – one thing I've so appreciated about Kristin is her depth of knowledge and willingness to work with the body, "slow healing." Kristin's treatment rooms are so relaxing (I want to take a nap every time I'm in there!) and she is so gentle with her patients. I have learned so much from her on my healing journey and I continue to see her for overall wellness and to further prepare my body for pregnancy. I can't recommend Kristin highly enough!"
Vulva + pelvic mapping is a living inquiry into your vulva and pelvic anatomy. It is an embodied, educational experience of your anatomy in an environment that is not clinical or sexual. It involves skilled, hands on and hands in touch that allows you to reclaim your pelvis and gain insights on your unique path sexually, relationally and spiritually.
A mapping session lasts about 90 minutes and includes down regulation of the nervous system, skilled touch of genital anatomy and compassionate witnessing throughout the process.
This empowering process is a simple and radical way to explore sexual autonomy, claim your body as your own, understand your own anatomy, heal after birth and break through layers of shame.
Current Rate
$175
More information
You can read more about Vulva Mapping here. If you are ready to claim this part of your body and being for deeper integration and deconstruct layers of shame within your own system, this is for you. This is also very supportive for healing after birth.
"I learned so much about my body and sexuality in just one session. And afterwards, I felt extremely empowered!"
"I was referred to Kristin by a friend who shared about her wonderful experience. At first, I was a bit nervous about the session, but Kristin immediately helped me feel comfortable and at ease. Kristin is incredibly welcoming, kind, knowledgeable and intuitive. I learned so much about my body and sexuality in just one session. And afterwards, I felt extremely empowered! I am beyond grateful for the time I had with Kristin, and I am so happy that I decided to take this step. After my session, I immediately told all of my friends to book a session with Kristin!"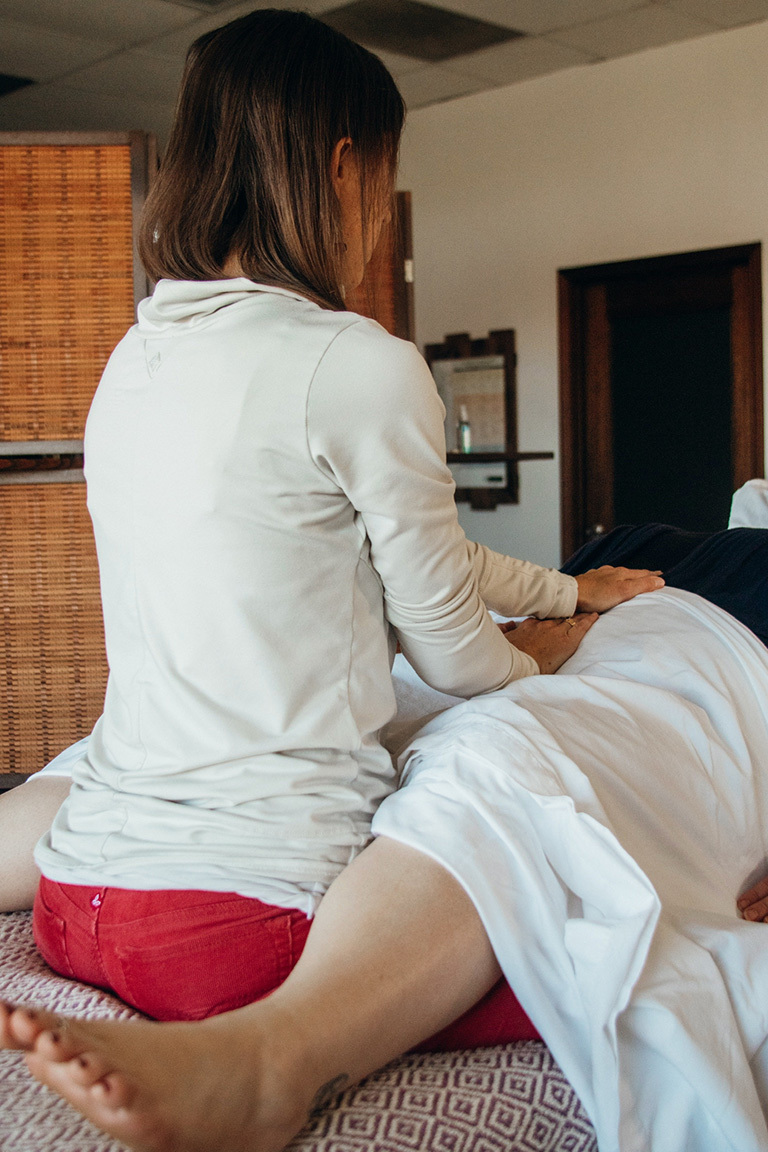 "... reclaim pieces of myself that I don't believe would have been possible outside this profound work."
"I have deep reverence & appreciation for Kristin's work. She has a gentle, kind and loving presence that allowed me to relax into the session and reclaim pieces of myself that I don't believe would have been possible outside this profound work. I look forward to a day in the future when this is routine self-care for the modern goddess!"
Birth and Postpartum Support
I walk with women who are interested in birthing outside the medical paradigm. The following birth and postpartum support package integrates different aspects of holistic care, embodied education, herbal ally support and mentoring for the transformational period of childbirth. This offering is for women and families who understand that birth is not a medical event but also long to be guided by a fellow wise woman.
If you're seeking greater support throughout pregnancy, birth and into the postpartum period, get in touch.
You deserve to make autonomous birth choices and birth in an undisturbed way. Birth is a normal, transformational physiological process. It is both magical and completely mundane! While I have attended hospital births in the past as a certified doula, that is really not my area of interest or expertise. If you plan to birth outside the home, I would be happy to help you find the right support for you!
Here is the structure of the Birth + Postpartum Support package:
8 prenatal visits in your home (approx. 90 minutes each) that include preparing for your birth and postpartum, acupuncture, skilled listening and mentoring
Being on call for your birth month and attending your birth
Weekly postpartum home visits for the first forty days (6 total, 2 hours each) that include acupuncture, gentle body work, skilled listening and mentoring into new motherhood
Total Exchange
$5,000 (payment plans available)
This also includes the following:

Phone and email support throughout
Herbal medicine support and supplement recommendations throughout if needed 
Dietary and lifestyle awareness for pregnancy and easing your transition into motherhood
Vaginal steaming education and setup during the postpartum time
Information and recommendations regarding other birth resources you may want or need
If you're ready to see if I'm the right birth support for you, I would be honored to talk to you. Reach out to me below.
"I wouldn't be where I am today without her..."
"So thankful for my acupuncturist, who has been so much more than an acupuncturist for me. She's been the feminine nurturing support I needed to heal my cycle and fix my fertility, allowing for two pregnancies that occurred naturally after an infertility diagnosis, miscarriage and failed IVF. She's been the honest, open and authentic mirror of motherhood and all its ups and downs. She's been a wealth of knowledge not only in Chinese Medicine and treating everything from cysts to bleeding to autoimmune issues to mastitis, but also referring me to my team of amazing women who have helped me with every aspect of pregnancy and postpartum and have been by my side every step of the way. She helped me heal from my first birth with pelvic mapping and massage, taught me how to take care of my body with steaming herbs, supplements, nourishing foods and teas. She offered classes on awakening the sexual desires of women and mothers after childbirth and creating resilience in an impossible and broken culture and taught me how to regulate my nervous system in order to allow pleasure back into my life. I wouldn't be where I am today without her, her deep and knowing knowledge of Chinese Medicine, herbs and motherhood or her belief in my body to heal and carry and birth and experience fully. In a world where we, as women, still feel so alone – women who help and support us along the way are a light in the dark."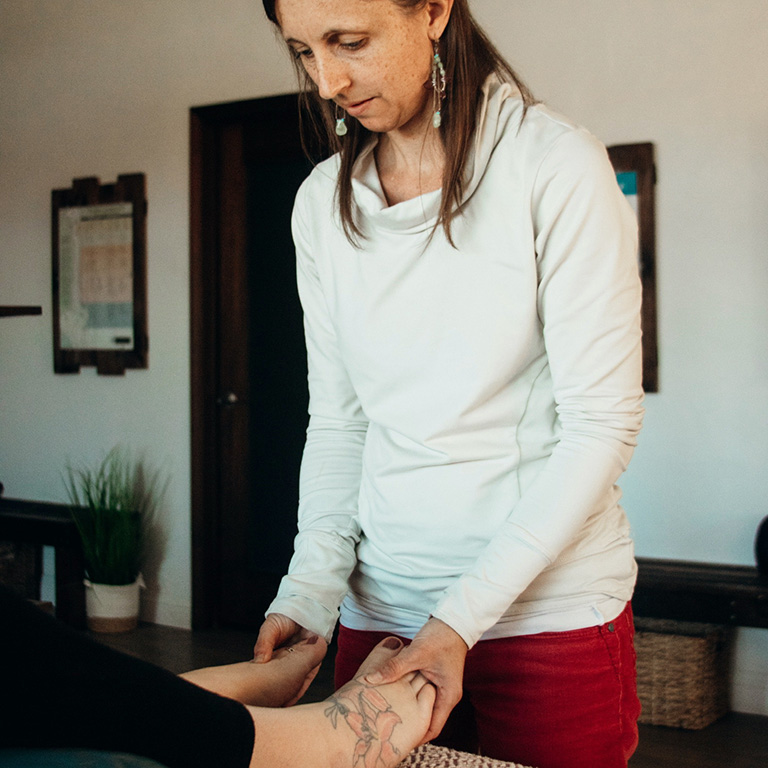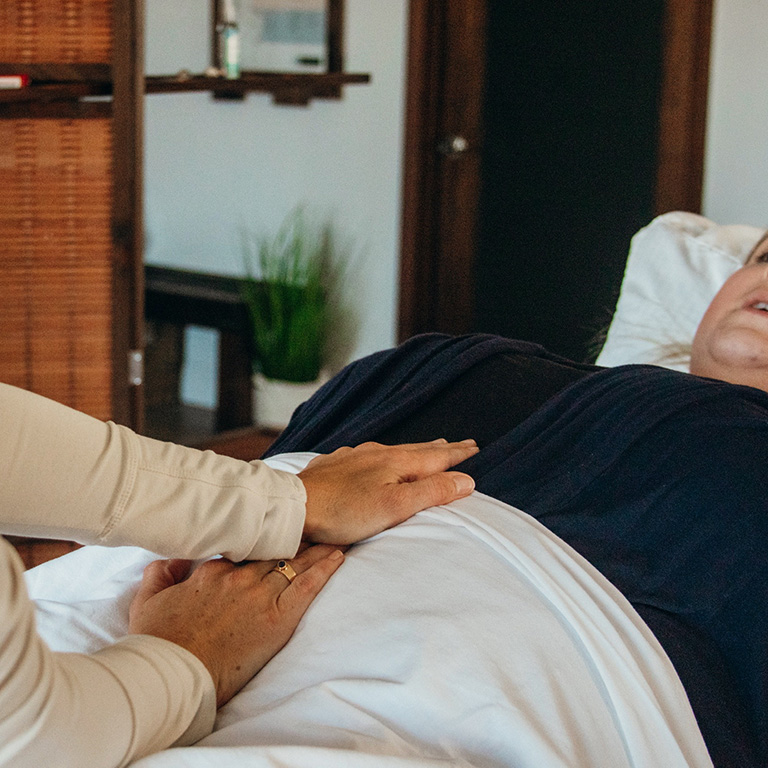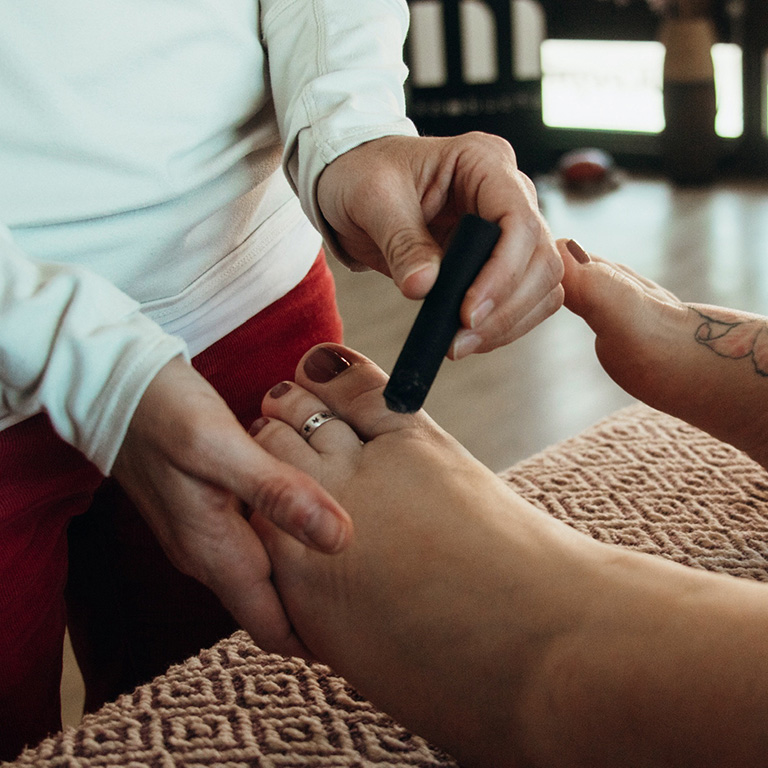 "If you want a provider that is knowledgeable, and cares for you as a human, genuine care, please go see her."
"I found Kristin during my second pregnancy, and what a gift she has been. This wise woman knows so so much about women's health, pregnancy and postpartum. She has helped me with amazing acupuncture and herbal support suggestions during my pregnancy and postpartum. If you wan a provider that is knowledgeable, and care for you as a human, genuine care, please go see her. You are a gift Kristin. Thanks for the amazing offerings and care with me and my family."